ABOUT OUR DIGITAL SERVICES
As a leading governance and board services firm we combine professional advice with world class digital assessments, surveys and services. In light of global changes we deliver best of breed digital services to support reviews and assessments. These are affordable, validated, benchmarked and lead to world class governance.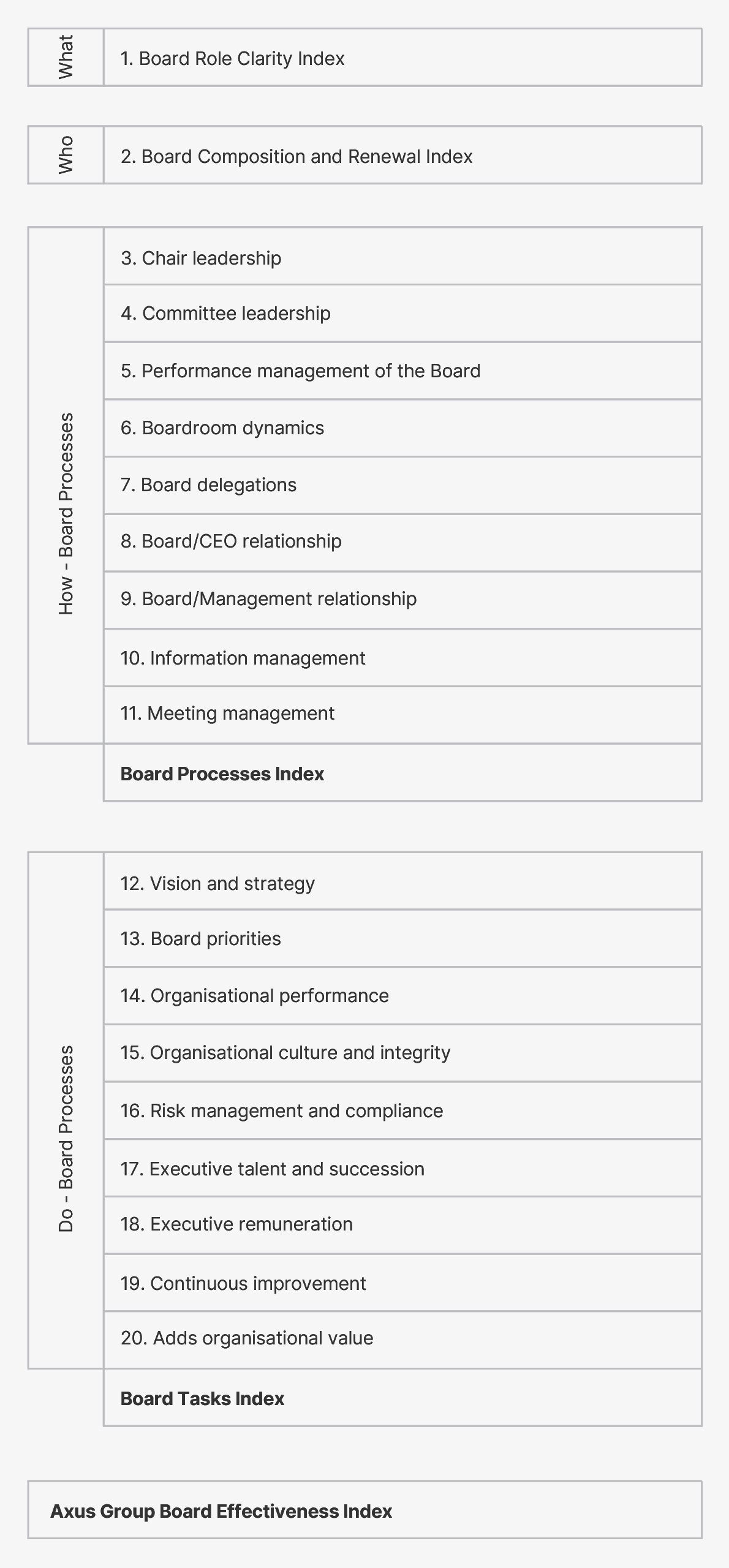 Board Effectiveness Survey
A well-structured benchmarked board assessment will identify areas of strength and areas where improvements can be made across the 20 most important dimensions of a board's effectiveness. The review also sets an important baseline from which the impact of subsequent improvement initiatives can be measured.
Our benchmarked Board Effectiveness Report clearly depicts our unique What/Who/How/Do framework including the 20 factors and some of the survey items we use to benchmark the effectiveness of your board.
Learn more
Director Effectiveness Survey
A well-structured review that is appropriately positioned as important for the ongoing development and growth of directors and that is conducted in a constructive way has benefits to the individual directors, the board and their organisation. Gaps will almost certainly be identified and made visible in the self-awareness, attitudes, behaviours, commitment, teamwork, focus and skills of directors.
Our Director Effectiveness Report shows the survey items we use in relation to each of the four dimensions that are important to a director's effectiveness and the valuable perspectives our reports provide.
Learn more
Technology & Cyber Assessments
Our assessments help organisations evolve their internal capability to balance risk and opportunities by assessing:
Where they are (Current State)

Where they want to be (Desired State)

How to get there

How to monitor progress on an ongoing basis
Maturity assessments of technology governance and cyber security provide insights to key technology risks for an organisation, the strategic goals as well as the planning and resources needed to bridge the 'gap'.
Key in the assessments is to select the most relevant standard and framework for benchmarking.
Connect with us to learn more
Ready to start your journey to enhanced governance and performance? Contact us for a free 30 minute consultation